Low-carbon economy and green development, July 12 is the 11th "National Low Carbon Day". As an important link in urban energy conservation and carbon reduction, urban smart lighting is not only related to the digital empowerment of urban management, but also a part of urban sustainable development. Compared to traditional urban lighting management methods, the Smart City Lighting Monitoring System of IOTCOMM can achieve significant energy-saving and carbon reduction effects through the following methods:
1. Multi strategy light control on-demand lighting
IOTCOMM provides the city with an overall solution of smart lighting, which is based on PLC, PLC dual-mode, RS485, ZigBee, Wi SUN and other ad hoc network communications, or 4G Cat. 1, NB IoT and other operators' network communications. Through the street light control terminal and HOTU or V3 Intelligent Lighting Platform, it realizes the functions of street light remote switching and dimming, abnormal alarm, 24-hour automatic patrol, and supports longitude and latitude, light control, time division multi lighting strategies such as interval lighting achieve true "on-demand lighting".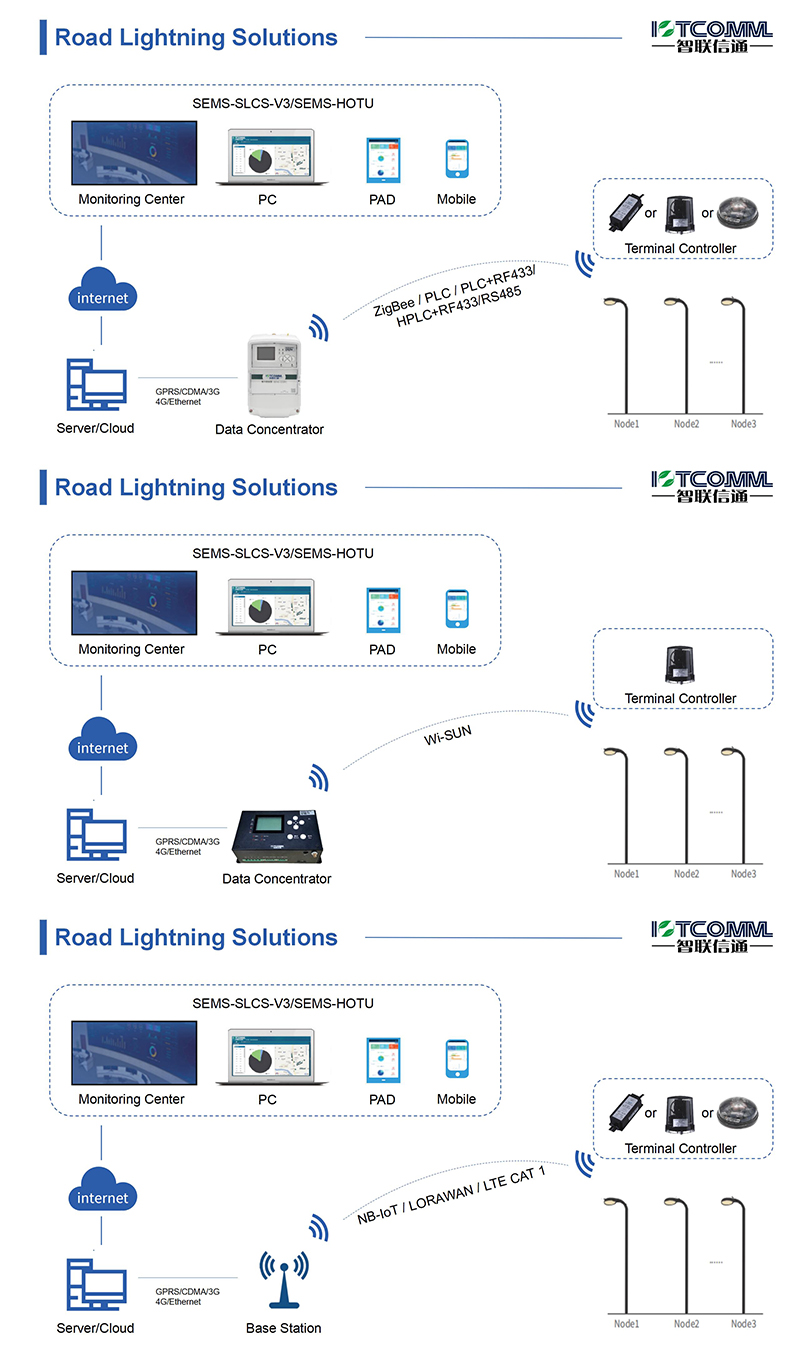 2. Scientific energy management and optimization
HOTU Intelligent Lighting Platform can monitor and analyze the use of energy in real time. The regional distribution and trend of energy consumption, power saving, and energy consumption are clear at a glance, helping urban management departments optimize energy distribution. Through accurate data analysis, more reasonable energy strategies and energy conservation schemes can be customized, so as to minimize energy waste and carbon emissions.

3. Paperless office lighting operation and maintenance
HOTU Intelligent Lighting Platform integrates the three elements of street lamp operation and maintenance management&mdash& Flash; People, vehicles, materials, as well as various processes such as fault alarm, work order push, task inspection, vehicle navigation, etc., create a new street light operation and maintenance management mode, achieve one-stop management of the street light operation and maintenance process, greatly reducing the waste of manpower, material resources, and vehicles caused by information asymmetry in the operation and maintenance management process.

NO.1  The entire urban area of a provincial capital city in West China
The city started the energy-saving transformation of street lights, all street lights were installed with IOTCOMM street light controller, and connected to  Intelligent Lighting Platform developed by IOTCOMM for unified operation and maintenance management. In August 2022, the city experienced a power shortage. By setting up lighting strategies such as half power lights and separate lights, 140000 street lights saved 170000 kilowatt hours of electricity per night, with an overall power saving rate of 57.1%. In addition to meeting the basic lighting needs of urban roads, the energy-saving effect was maximized.

NO.2  The entire urban area of a certain city in the East China
The main urban area of the city has carried out energy-saving transformation of street lights, installed nearly 20000 IOTCOMM light controllers, adopted the  PLC dual mode (power carrier+RF433) and 4G Cat. 1 communication mode, and unified access to the lighting Big data platform. After the completion of energy-saving transformation, the street lights have achieved remarkable energy-saving benefits, saving more than 500000 yuan of electricity per month, greatly reducing energy consumption and local financial expenditure.

NO.3   A New areas in Central China
The project construction covers three scenes of road lighting, landscape lighting and tunnel lighting. More than 30000 street lamp terminal controllers are deployed, including road and landscape lighting, and power carrier communication technology is used. After the completion of the project, the average illumination on the road surface increased from 7.26lx to 20.46lx, and the lighting effect improved by 181.82%. The overall power consumption of a single lamp has a comprehensive energy-saving rate of over 65%; At the same time, it effectively improves management efficiency and saves maintenance costs by over 50%.

The smart city lighting monitoring system not only means that we provide smarter and energy-saving lighting solutions for urban lighting, but also a crucial step towards a sustainable future. IOTCOMM leads innovation with technology, making the earth more environmentally friendly and the city better!